Manufacturing Capabilities
Know your membrane solutions are robust and ideally suited for your application.
You should demand the highest quality and performance from your membranes. This includes both flat sheet membranes, as well as spiral wound elements. Solecta has deep expertise in manufacturing multiple formats for all your process application needs.
Achieve Remarkable Returns.
What if there's a way to innovate your way to greater…
Productivity

Yield

Quality

Operating Efficiencies

Peace of Mind
Co-create Innovative & Novel Solutions.
Because we have in-house capabilities to cast membrane and roll elements, we can develop innovative products and provide customized solutions for our clients and partners. Our deep and broad knowledge of membrane chemistry and element construction enable us to create unique solutions for the most challenging processes.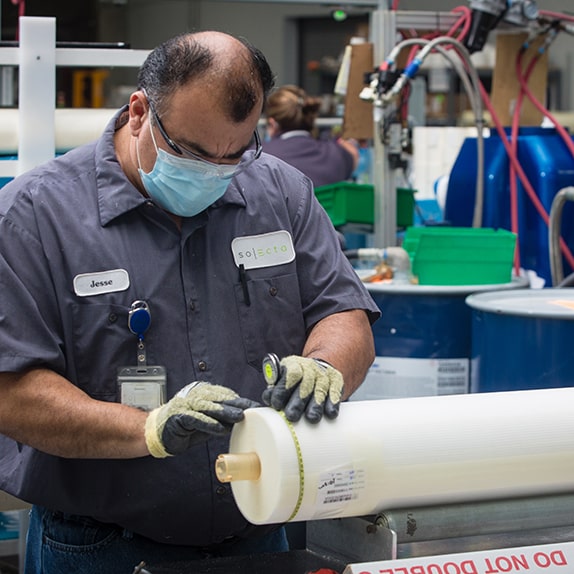 Tackle Your Most Difficult Challenges.
We work with clients to thoroughly understand their challenges and then work to develop the optimal separation solution. We offer a wide range of membrane formats and element construction tailored to numerous process environments.
Solecta's Manufactured Solutions
Offering a wide range of products and configurations to support market applications around the world.
Flat Sheet Casting

Spiral Wound Membrane Elements & Modules

Pilot Scale Elements

Custom Solutions
Explore the Possibilities
Our team of application engineers and domain experts understands your industry's unique challenges. (They're also eager to solve them.)
Ready To Optimize Your Membrane Processes? Let's Chat